20 million acres. That is how many acres of forestland there are in Michigan that provide habitat to a wide variety of wildlife species, including over 200 species of breeding birds each spring. With so much wildlife relying on the state's forests, it is important to know how forest management can impact bird habitat.
Since 1970, North America has seen a decline in the population of eastern forest birds by 17 percent. These birds rely on quality forest habitat in Michigan and across the eastern United States. Some of the causes of these declines include forest fragmentation, habitat loss, and invasive species. Forest management is one solution to help reduce the impact these threats have on vulnerable birds.
Forestry for Michigan Birds is a program that works to educate landowners, professional foresters, land managers and the public about how to manage forestland in ways that benefit birds. The program provides information about 20 priority bird species, which represent the different forests of Michigan, along with recommendations on how to manage forestland to protect each species.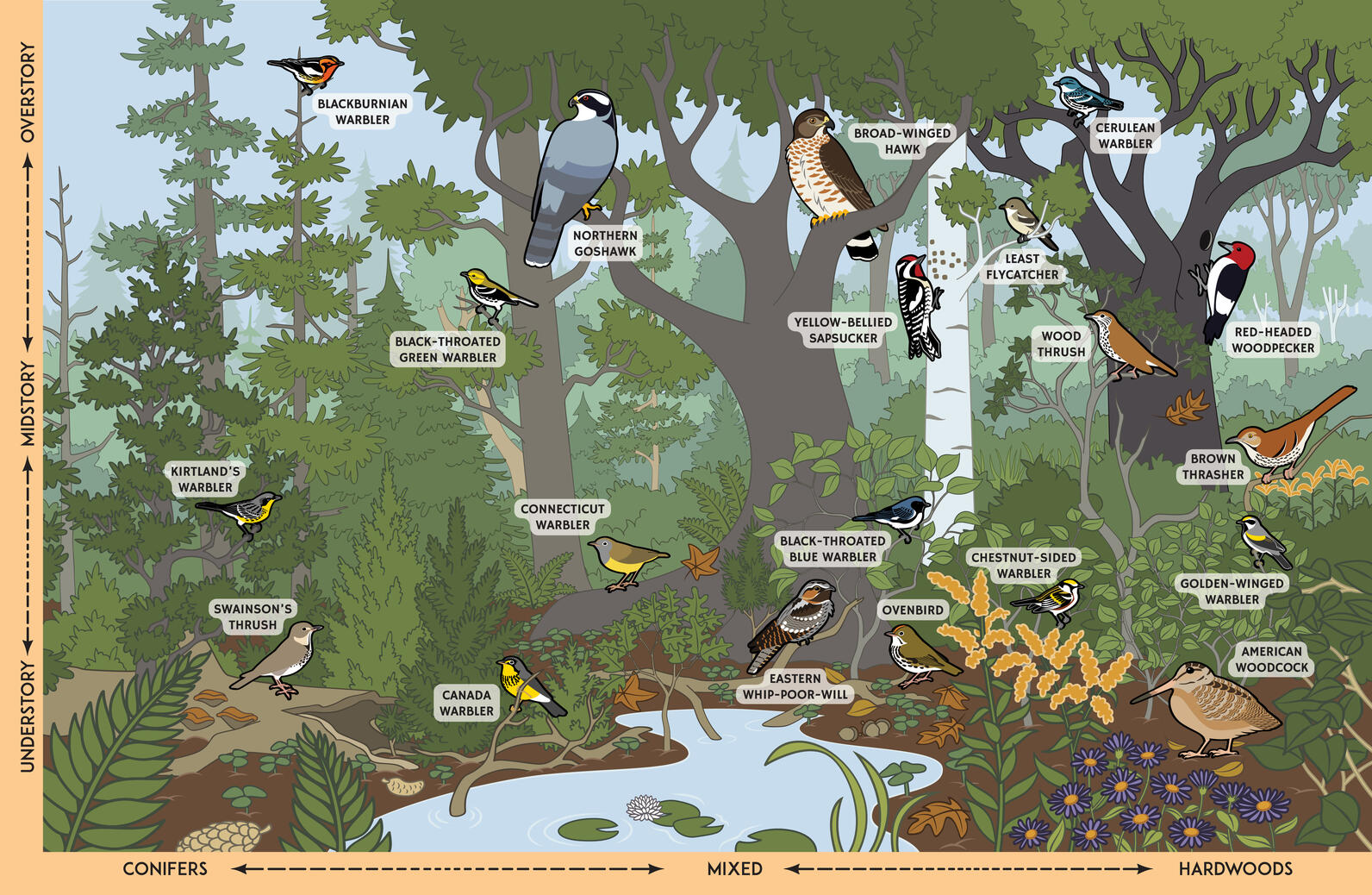 One of the priority bird species highlighted is the Golden-winged Warbler. This small songbird has lost 70 percent of its global population since the 1970s, and its population is still decreasing in Michigan by about five percent each year. The biggest reason for its decline is loss of suitable habitat as forests age. The Golden-winged warbler relies on young aspen forests, which are traditionally clearcut. The management recommendations provided by Forestry for Michigan Birds instead say to retain five to 15 trees per acre, as Golden-winged Warblers use these trees for singing in the spring.
Making small tweaks to traditional forest management practices can greatly affect the quality of bird habitat. Learn more about Forestry for Michigan Birds online.
MI Birds is a public outreach and engagement program created by Audubon Great Lakes and Michigan Department of Natural Resources, which aims to increase all Michiganders' engagement in the understanding, care, and stewardship of public lands that are important for birds and local communities.
- Guest author: Michael Paling, Michigan Forester, American Bird Conservancy & MI Birds Steering Committee Member.