Join Audubon Great Lakes and conservation partners from across the Chicagoland region at one of the premier grasslands in the Forest Preserves of Cook County!

The day will begin with a birdwalk at 7:30am to search for early migrants and lingering breeding birds to the Chicago area. Afterwards, join volunteers and conservation partners at 9am for habitat restoration and to warm up near the bonfire!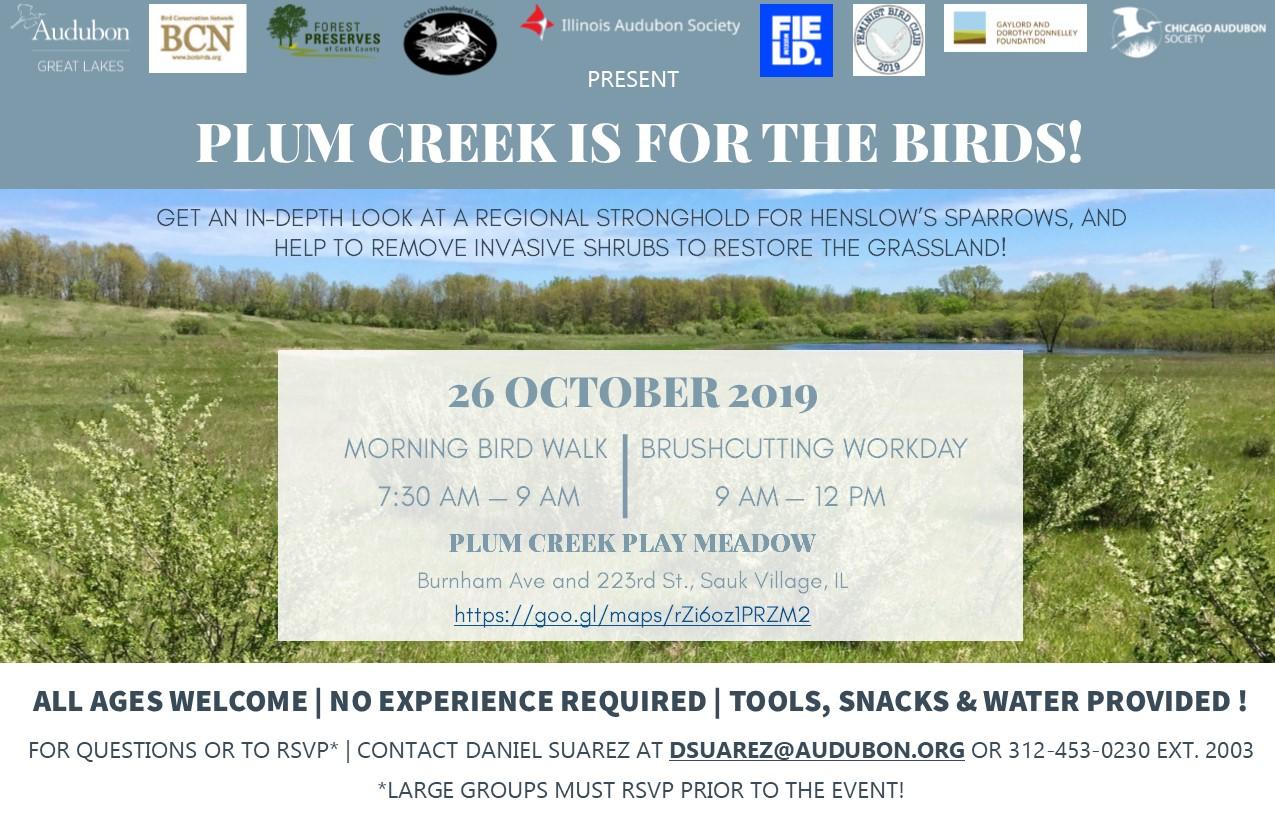 October 26th: Plum Creek is For The Birds!
'Plum Creek's Important Bird Area (IBA) grassland bird habitat extends much deeper than the area most birders visit to find their target birds, such as its signature species, the Henslow's Sparrow, a federal species of concern. Autumn Olive is an invasive shrub that is forming a monoculture in parts of the grassland, which progressively reduces the acreage available for nesting birds.
Illinois Audubon Society's (IAS) executive director, Jim Herkert, has found that the Henslow's Sparrow is making a comeback in Illinois, especially in Cook County, after steep national declines due to habitat loss and fragmentation. As if to punctuate that finding, Forest Preserves of Cook County (FPCC) ecologists counted an impressive 36 singing Henslow's Sparrow in a bird census of the grassland last June.
The workday is a prime opportunity to introduce a new audience to the spirit of stewardship and the joy of birding. Tools and refreshments will be provided. This event is co-organized by Laurel Ross and Mary Bernat, facilitated by Audubon Great Lakes and sponsored by:'
- Information above provided by Mary Bernat, Bird Conservation Network, Avid Birder and Conservation Enthusiast.
For more details or to RSVP: https://www.facebook.com/events/1253494228187273/
Download the flyer here:
https://gl.audubon.org/sites/default/files/plum_creek_2019.pdf