MADISON, WI (April 26, 2023) – Today, Audubon advocates from across Wisconsin gathered at the State Capitol to meet with elected officials to encourage them to support protections for Wisconsin's wetlands, conservation funding, and climate friendly policies to protect birds, other wildlife and people.
"Wisconsin's birds and local communities are at-risk from loss of wetlands and our changing climate," said Marnie Urso, Senior Policy Director for Audubon Great Lakes. "By acting now, our state policy makers have the opportunity to advance conservation and climate-friendly policies that will ensure a healthier future for all of those that live and thrive in Wisconsin."
More than 30 Audubon members and policy experts met with more than 30 elected officials to share the important role that wetlands and climate friendly policies play in creating more of the places wildlife need to thrive, while making healthier and more resilient communities for people.  
Birds are facing both a biodiversity and climate crisis. Wisconsin has lost nearly 50 percent of its natural wetlands – important natural infrastructure that provides vital habitat for vulnerable birds and other wildlife while buffering communities against flooding. In addition, two-thirds of North American bird species at risk of extinction due to climate change.
Audubon members advocated for policies that will protect the state's wetlands, including the Pre-Disaster Flood Resilience Grant Program (SB 222 & AB 222), which will provide grant funding for local governments to undertaking proactive strategies, like wetlands restoration, before flooding events occur. Advocates urged legislators to support an annual investment of $175,000, over five years for Oneida Nations' habitat restoration work and bird monitoring project with Audubon Great Lakes and partners, which Governor Evers outlined in his budget proposal.
During the event, Audubon members also shared the need for climate friendly policies that would expand renewable energy and support sustainable farming and forestry practices.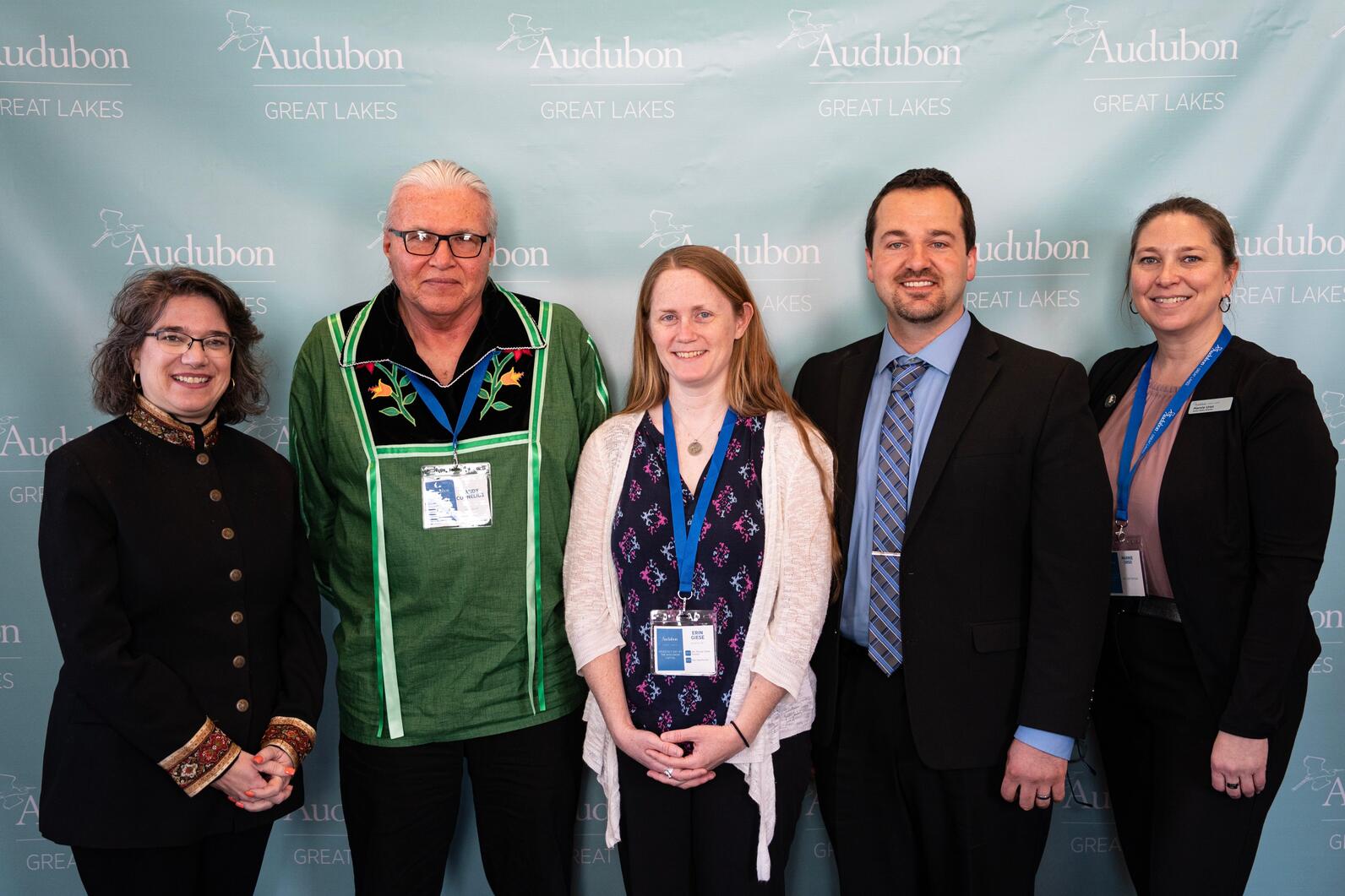 The day included a speaking program at the Madison Club, where state legislators and conservation leaders discussed the importance of conservation and climate action. Speakers included State Senate Minority Leader Melissa Agard (D-Madison); State Senator Romaine Quinn (R-Cameron); Randy Cornelius, Oneida Language and Culture Archivist at Oneida Cultural Heritage Department and Erin Giese, President, Northeastern Wisconsin Audubon Society, and Audubon Great Lakes Advisory Board member.
"There is still time to avoid the worst impacts of climate change, but we need to act now. Policies that advance the expansion of renewable energy generation in Wisconsin will protect our state's wildlife and beautiful natural resources," said Senate Democratic Leader Melissa Agard. "Thank you to Audubon Great Lakes and Audubon members from across Wisconsin for coming together to advocate for a cleaner, stronger future for Wisconsin. We need strong, effective and passionate voices who will stand up to support conservation."
"Healthy and abundant wetlands provide countless benefits to local communities and wildlife across Wisconsin," said State Senator Romaine Quinn. "That's why I'm proud to be the Senate Sponsor of the Pre-Disaster Flood Resilience Grant Program (SB 222 / AB 222), a common-sense and fiscally responsible prevention measure that will allow us to work upstream from potential flooding events by restoring the ability of wetlands to retain and filter water. Thank you Audubon for your work to conserve our state's wetlands, and advocate for their continued protection."
"As an Oneida Nation member, I've watched as our years long restoration work has improved water quality and has led to the return of wildlife not seen for decades in Northeast Wisconsin," said Randy Cornelius, Oneida Language and Culture Archivist at Oneida Cultural Heritage. "Now, our bird monitoring project with Audubon Great Lakes and partners is showing the incredible impacts of this restoration. I'm proud to join Audubon today to advocate for a healthier natural environment and the continued protection of the land that we depend on."
About Audubon Great Lakes
Audubon Great Lakes is a regional office of Audubon, learn more at gl.audubon.org and follow us on Facebook, Twitter and Instagram.
The National Audubon Society protects birds and the places they need, today and tomorrow. Audubon works throughout the Americas using science, advocacy, education, and on-the-ground conservation. State programs, nature centers, chapters, and partners give Audubon an unparalleled wingspan that reaches millions of people each year to inform, inspire, and unite diverse communities in conservation action. A nonprofit conservation organization since 1905, Audubon believes in a world in which people and wildlife thrive.