CHICAGO (May 27, 2021) – As birds are returning to our beaches along the Great Lakes to nest or rest during their migration, Audubon Great Lakes is calling on beachgoers to help make beaches safer for birds by avoiding their nesting/resting areas by encouraging people to #ShareTheShore and give birds at least 100 ft of distance.
"Share the Love, Share the Shore" is Audubon's effort to protect federally and state-threatened shorebirds that depend on our beaches to nest successfully. Every May–August, vulnerable species like the Piping Plover raise chicks on the shores of the Great Lakes – and these chicks weigh less than a single scoop of ice cream.
"We know our communities love the beach—now it's time to share the love with our beach birds by giving them the space they need to nest and raise their little chicks/rest and fuel up for their long migration," said Glen Moss, President of Lake County Audubon Society working to protect piping plovers in Waukegan, IL.
Birds like Piping Plovers can be found on our coast and beaches throughout the summer. Both the eggs and chicks blend right in with the color of the sand, so it's important that beachgoers pay close attention so as not to accidentally harm or disturb them. Whether you love the beach for sunbathing, walking your dog, fishing, kayaking or boating, Audubon encourages the community to remember to share the love with our coastal birds by sharing the shore.
Here are four tips for making our beaches safer for birds:
Give nesting birds at least 100 feet of distance if the space allows. Signs or people usually alert you to these areas, but many posting and fencing efforts may be delayed this season.  
If pets are permitted on beaches, keep them leashed and away from birds.

Remove trash and food scraps, which attract predators that might eat birds' eggs and/or chicks.  

Do not drive or use all-terrain vehicles on beach dunes or other nesting areas.
"Piping Plovers travel each spring from as far as the Bahamas and Cuba to nest and raise their chicks on our shorelines. Despite the best efforts of plover monitors and volunteers, these birds face immense challenges that are heightened by the presence of beachgoers," said Sarah Saunders, Quantitative Ecologist, National Audubon Society, who studied the population ecology and conservation of Great Lakes Piping Plovers for her PhD. "Approaching the birds or their nesting space can cause undue stress to both the adults and chicks; this wastes precious energy that they need to incubate their eggs and forage for food."
In the early 1900s, the shores of the Great Lakes were home to nearly 400 pairs of Piping Plovers. By the late 1980s, that number had dropped to as few as 12 pairs. There are currently about 65-70 nesting pairs in the Great Lakes population annually. Across the country, Audubon's Coastal Bird Stewardship Program engages local communities to protect beach-nesting birds from predators and disturbance, like dogs or humans getting too close. Due to compounding threats like water level rise and habitat loss, coastal birds are facing a crisis—seabirds around the world have decreased by 70 percent since 1950, and shorebirds in North America alone have seen an even steeper decline since 1973. Shorebirds like Piping Plovers need our help to successfully raise their young and boost their population numbers.
For more information on how to visualize the amount of space that coastal birds need to be safe from human interactions, check out our infographic below.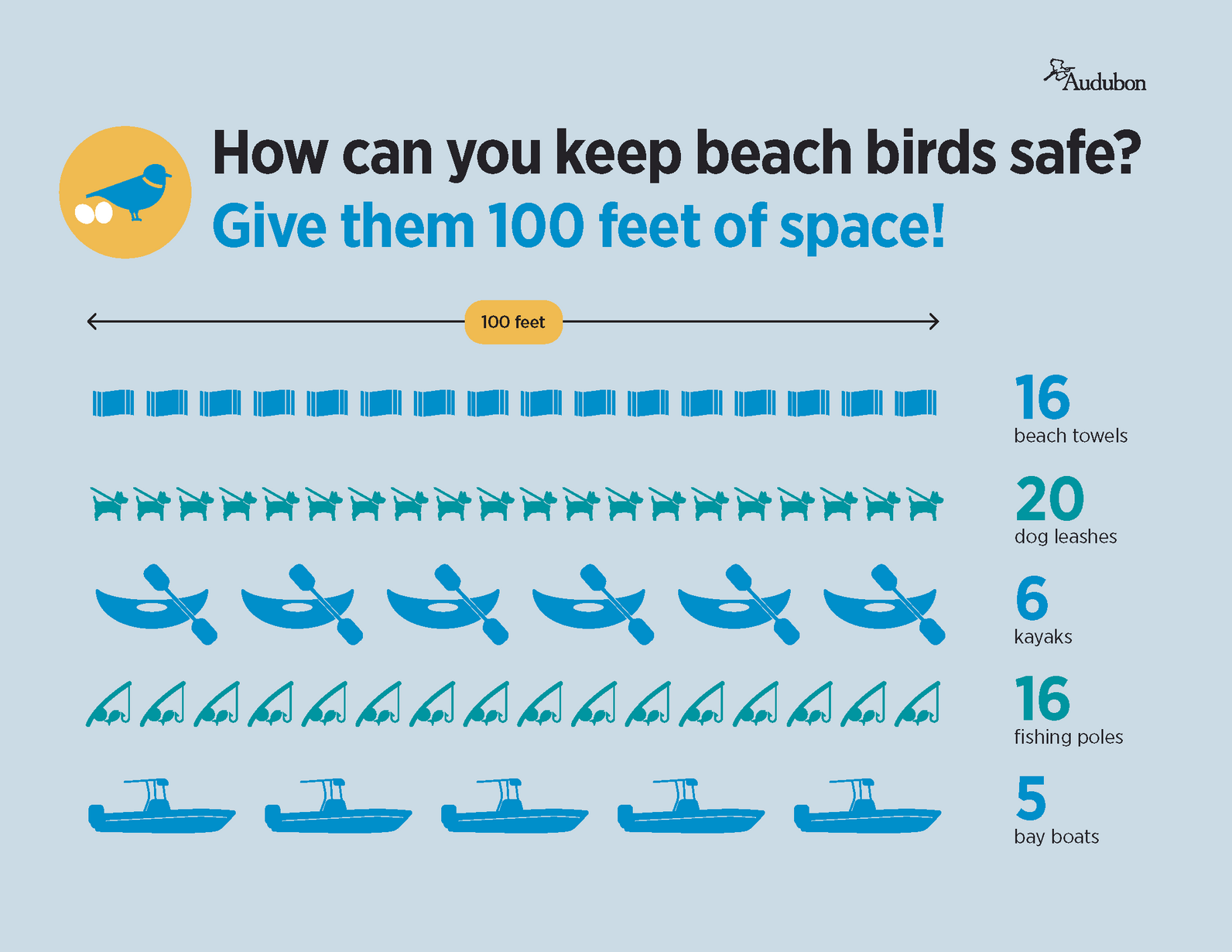 ###
The National Audubon Society protects birds and the places they need, today and tomorrow. Audubon works throughout the Americas using science, advocacy, education, and on-the-ground conservation. State programs, nature centers, chapters, and partners give Audubon an unparalleled wingspan that reaches millions of people each year to inform, inspire, and unite diverse communities in conservation action. A nonprofit conservation organization since 1905, Audubon believes in a world in which people and wildlife thrive.