MICHIGAN (June 13, 2022) – Communities throughout the Eastern Lake Michigan region have lost up to 90 percent of their historic wetlands, natural areas that birds and other wildlife rely on to thrive. Last week, Michigan State Senator Jon Bumstead (R-MI-34) went birdwatching with Audubon Great Lakes at Muskegon State Park in North Muskegon, Michigan to learn about Audubon Great Lakes' work to restore wetlands across the region, and to discuss bipartisan conservation solutions to protect Michigan's natural areas, wildlife, and people.
"Thank you to Audubon Great Lakes for inviting me to go bird watching," said Sen. Bumstead. "Protecting Michigan's great natural resources creates jobs, boosts tourism and supports our regional economy – a win-win for wildlife and Michiganders everywhere. I applaud Audubon Great Lakes conservation work to protect our great state's local wildlife, while supporting our growing economy."
On Friday, June 10, Audubon Great Lakes representatives led the bird walk accompanied by Beth Miller, President for Muskegon County Nature Club and volunteer for Audubon Great Lakes; Wendy Ogilvie, Director of Environmental Programs for Grand Valley Metro Council; Jason Shamblin, Parks and Recreation Director for Ottawa County Parks and Recreation; Sara Rose, Office Manager for Western Michigan Environmental Action Council; Dave Bowers, State Policy Chair for Michigan Ducks Unlimited; and representatives from the Michigan Department of Natural Resources.
During the walk Audubon Great Lakes representatives shared the importance of protecting wetland habitat within the Eastern Lake Michigan region. Since 2018, Audubon Great Lakes has directly restored 2,000 acres of wetlands across the region, and has helped guide partners in the restoration of an additional 8,000 acres.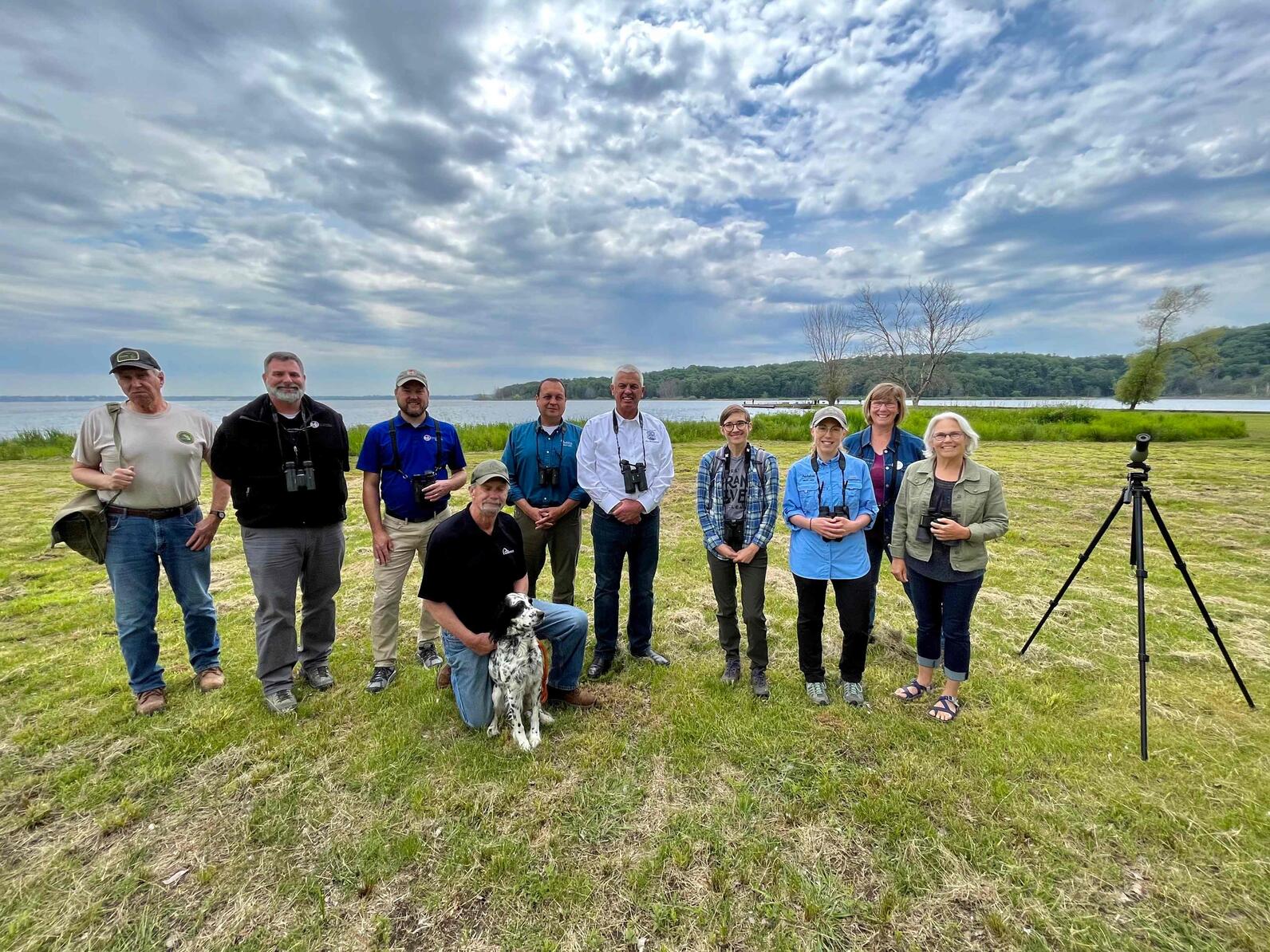 Last year, Audubon Great Lakes worked with Ottawa County Parks and over 20 stakeholders to develop conservation recommendations for the nearby Grand River Coastal Corridor, which stretches across Grand Haven, Muskegon and Port Sheldon Township. Despite massive wetlands loss, the Corridor is home to fragmented wetlands and marshes that provide critically important habitat for vulnerable marsh birds like the Marsh Wren and Virginia Rail. In addition to protecting birds, wetland restoration improves water quality, alleviates flooding, and provides natural spaces and recreation opportunities for the benefit of local communities. Michigan's outdoor recreation industry contributes billions to the state's economy and supports 126,000 jobs.
The area is critically important during spring migration, as birds look for quality habitat to rest during their long journeys. In June, most species in the region have already begun nesting, including marsh birds like the Common Gallinule and Least Bittern. During the bird walk, the group heard the Least Bittern and saw the Great Blue Heron, Red-headed Woodpecker, Red-eyed Vireo, Warbling Vireo, Blue-gray Gnatcatcher, and many more.
The walk also included a stop overlooking the Muskegon State Park dunes and beaches, which is recognized as an Audubon Important Bird Area (IBA) for the sandy habitat it provides for the federally endangered Great Lakes Piping Plover. In the Great Lakes region, Piping Plovers are making a remarkable recovery thanks to conservation funding, and the efforts of many of Audubon's partners.
Audubon representatives thanked Sen. Bumstead for championing Senate Bill 565, which includes $450 million in funding to support state and local parks across Michigan, and discussed the importance of conservation funding, which makes of Audubon Great Lakes' vision plan to protect and restore wildlife habitat across the Great Lakes region possible.
"Audubon Great Lakes thanks Sen. Bumstead for joining us on a bird walk to learn about our work to restore the region's wetlands for the benefit of birds and communities in Eastern Lake Michigan," said Brian Vigue, Policy Director of Freshwater for Audubon Great Lakes. "We applaud Sen. Bumstead for championing conservation legislation like Senate Bill 565, and we look forward to continuing to work with his office on common-sense policy solutions that will protect Michigan's birds and people."
About Audubon Great Lakes
Audubon Great Lakes is a regional office of Audubon, learn more at gl.audubon.org and follow us on Facebook, Twitter and Instagram.
The National Audubon Society protects birds and the places they need, today and tomorrow. Audubon works throughout the Americas using science, advocacy, education, and on-the-ground conservation. State programs, nature centers, chapters, and partners give Audubon an unparalleled wingspan that reaches millions of people each year to inform, inspire, and unite diverse communities in conservation action. A nonprofit conservation organization since 1905, Audubon believes in a world in which people and wildlife thrive.
FOR MORE INFORMATION OR TO REQUEST AN INTERVIEW: Emily Osborne, emily.osborne@audubon.org, 414-841-5273